Blair Valley refers to an secluded area that encompasses two valleys, Blair Valley and Little Blair, located in the westerm side of Anza Borrego Desert State Park. The two valleys are surrounded by mountains and seperated in part by a ridgeline that runs between them.
These valleys, situated at an elevation of around 2500 feet, offer interesting hiking, primitive camping and a network of sandy dirt roads for exploring.
Camping
The Blair Valley area offers a single managed primitive campground, as well as dispersed camping in both Blair Valley and Little Blair Valley.
Blair Valley Primitive Campground, managed by California state parks, is a great base for exploring the area. The campground is situated at an elevation of about 2,500 feet (GPS: 33.033037, -116.399311), off Highway S-2, down Little Blair Valley Road (take the southernmost of the roads two entrances entrances from the S2). The campground offers dispersed camping and a single vaulted toilet.
The valleys also offer dispersed camping, with many people opting to camp near the ridge that runs between them. There are pullouts all along the ridge in both Blair Valley and Little Blair Valley. These tend to fill up on busy weekends, but you can also camp in other parts of the valleys along the dirt roads.
Just remember that ground fires are prohibited outside of official fire rings, to avoid scarring the slow-to-heal desert soil. Bringing a fire pit with you is another good option. Also, your vehicle can only be one car length from the road — although you can hike away from the road to set up camp.
Hiking
Three popular hikes start from the Blair Valley area: Pictograph Trail, Marshall South Trail and Mortreros Trail.
Pictograph Trail
The trailhead for Pictograph trail is located at the norheast corner of Little Blair Valley (GPS: 33.019697, -116.359904) The 1.8 mile out-and-back trail brings you to rocks where ancient Kumeyaay Indians drew pictographs thousands of years ago.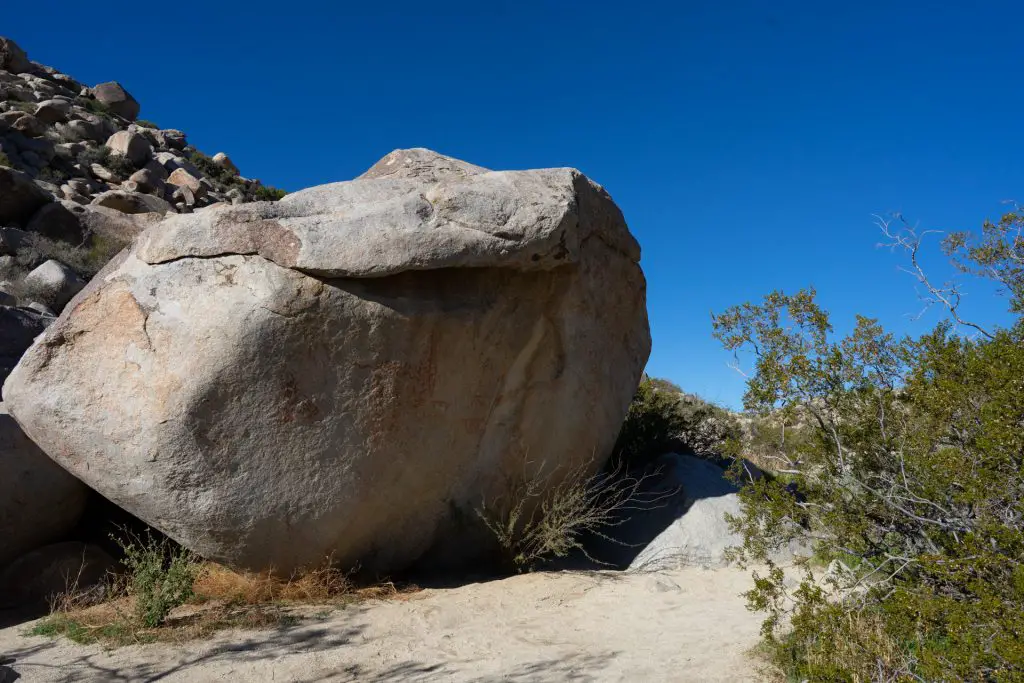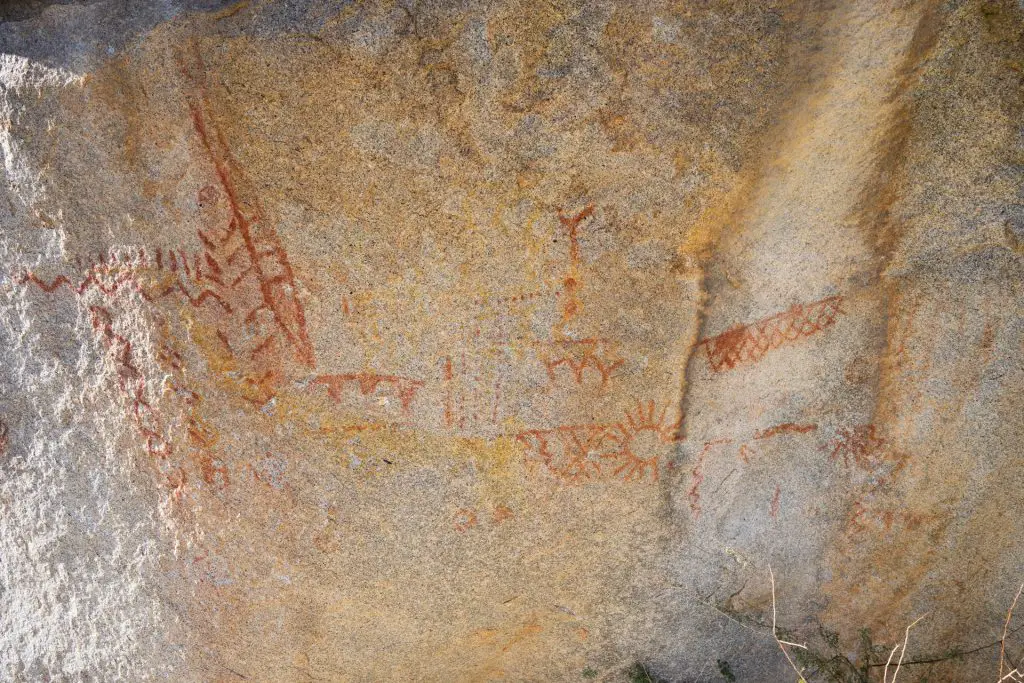 If you continue another half mile past the pictographs, you'll come to a site that was once an seasonal Kumeyaay camp and to the top of a dry water fall that provides an stunning view of Carrizo Valley.
Morteros Trail
The trailhead for Morteros trail also located on the eastern side of the area, where Little Blair Valley Road bends around the end of the ridgeline that seperates Blair Valley from Little Blair Valley (GPS: 33.008830, -116.378245). A little over a half mile long, this roundtrip trail climbs to an area once inhabited by Kumeyaay Indians, where you can see a number of groves cut into a large rock, where the Kumeyaay used stones to grind seeds.
Marshall South Home Trail
The trailhead for Marshall South Home Trail is also located on the east side of the valleys, less than a mile south of Morteros Trail (GPS: 33.003472, -116.389879). This 1.3 mile roundtrip trail climbs 450 feet to a homestead built in the 1930s by Marshall South, where he lived on a waterless mountain top for 17 years with his wife, Tanya, and children. South wrote about their rugges life in a popular column in Desert Magazine. The ruins of the homestead are still found on top of Ghost Mountain (which they called "Yaquitepec"). As a side note, if your interested in learning more about the Souths, Anza Borrego Visitors Center shows a short documentary on them.
A full length documentary about the family, titled The Ghost Mountain Experiment, was released in 2007.
Stargazing
Blair Valley is secluded and the sky very dark at night, which makes for top-notch star gazing and astrophotograpy.
For more information on Anza Borrego, visit our Ultimate Guide to Anza Borrego Desert State Park.