Borrego Palm Canyon Campground is located in the northeastern portion of Anza Borrego Desert State Park, just west of the town of Borrego Springs and north of the park visitor's center (GPS: 33.268713, -116.406073).
Of all of the campgrounds in Anza Borrego, this one best balances rugged desert solitude with access to the pleasures of civilization.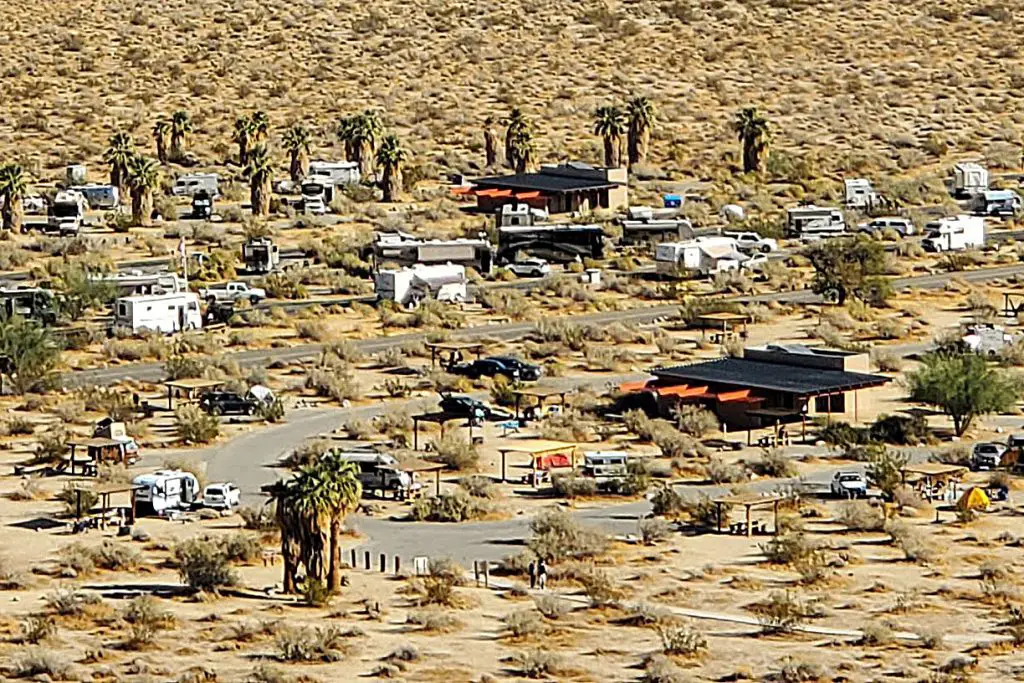 The campground is far enough from town to feel secluded and offers immediate access to several hiking trails. Yet its close enough to Borrego Springs that a 5 minute drive brings you to restaurants and stores.
Reservations
The campground is open year round and offers 120 campsites, including 51 full hookup RV sites, as well as 5 group camp sites. Reservations are required October 1 to April 30, and sites can be booked at ReserveCalifornia.com (search for "Anza Borrego") or by calling 1-800-444-7275.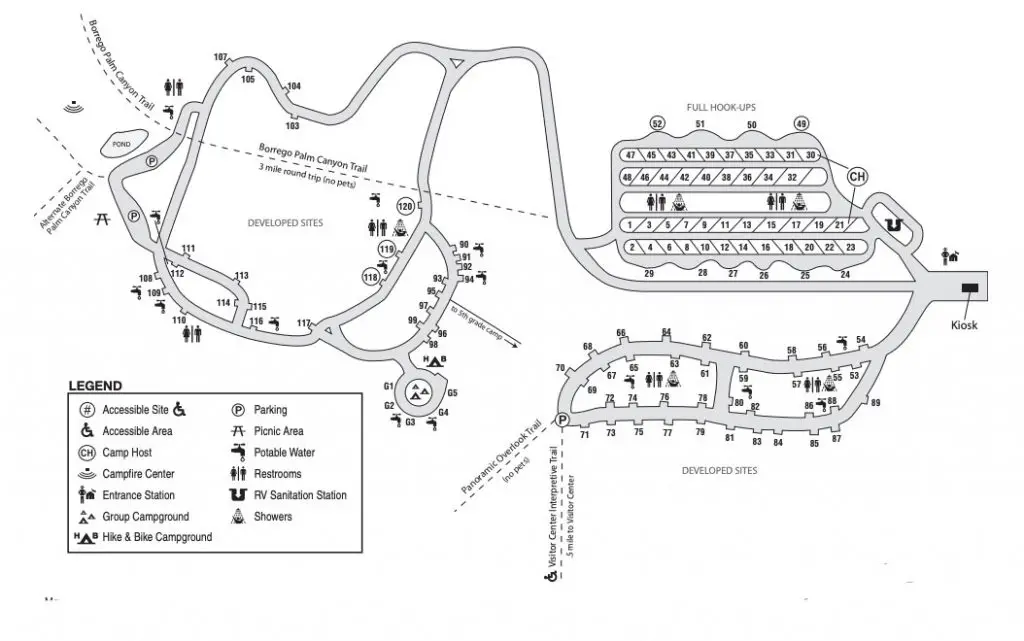 Up to eight people can camp at the standard sites. Each site typically has only enough parking for two cars, but there is an overflow parking area available. Check-in time for the sites is 2 pm and check-out time is noon.
All of the sites in the campground are well-maintained and offer a decent amount of space. That said, the most desirable sites, in our opinion, are those on the outer edge of the loops, particularly those that abut the open desert – for example, sites 71-89.
Amenities
Borrego Palm Canyon Campground, which is split into three seperate loops, features simple but well maintained facilities, including potable (drinkable) water from spigots and water fountains, flush toilets and token operated showers with hot water. Each site offers a picnic table and a shade ramada, which comes in handy during when the desert sun beats down midday.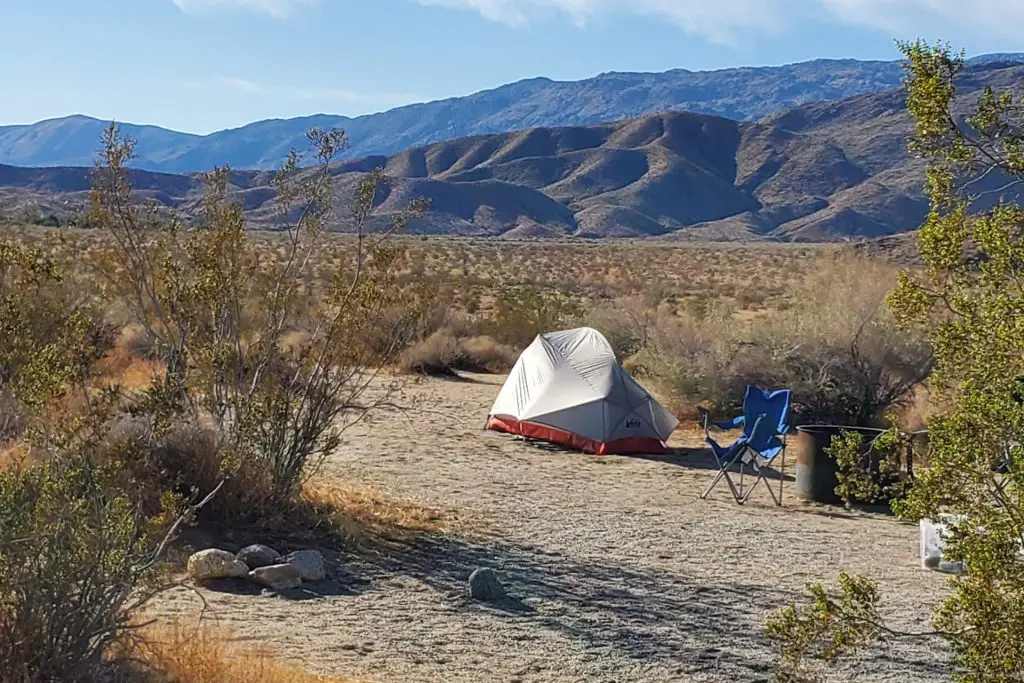 Two of the campgrounds loops offer sites for both tents and RVs, but no hookups. The third loop, the one to the right as you enter the campground past the ranger booth, is for RVs, although you can also pitch tents as long as you also have an RV at the site. The group campsites are located on the wide loop that is furthest west.
Showers
The showers operate on tokens that you need to buy from the ranger station at the entrance to the campground. It can be a bit of a walk back to the entrance, so it's a good idea to pick them up when you check in. Each token gets you 4 minutes of water, and our experience is that one or two tokens is plenty for a shower.
Fires
Ground fires are prohibited in Anza Borrego, to protect the fragile desert soil, and campfires are allowed only in the fire rings/pits provided at each site or in campstoves.
You can purchase fire would at the ranger booth at the campground entrance and pick it up just past the entrance on the right. Don't gather firewood in the park–the dead wood provides important nutrients to the desert ecosystem (if your planning to make smores, bring your own marshmellow roasting spits instead of using branches from live or dead vegetation in and around the campground.)
RV Information
The campground offers full hook ups (electric/water/sewer) at the RV sites near the campground entrance (sites 1-51). The parking pads are 15-feet wide by 35-feet long. This section of the campground also offers restrooms and token-operated showers.
Just to the right as you enter the campground is an RV gray and blackwater dumpstation and a spigot and hose to fill RV water holding tanks.
Generators can only be operated from 10 am to 8 pm.
Things to do
There's a lot to do near Borrego Palm Canyon Campground. There are several trails that can be accessed from the campground, including Borrego Palm Canyon Trail, Panoramic Overlook Trail and the Visitor's Center Interpretive Trail, which brings you to the state park visitor's center.
The visitor's center is worth a visit. The staff are highly knowledgeable about the park, and can make suggestion on hikes and points of interest, as well as provide information on road conditions and any area closures. The visitor's center featured nice museum quality exhibits on Anza Borrego's natural and cultural history. It also has a small movie theater, where they show short films about the park.
The visitor's center is located at:
200 Palm Canyon Dr, Borrego Springs, CA 92004
For more information on restaurants, attractions and outdoors adventure near Borrego Springs, visit our Ultimate Guide to Anza Borrego Desert State Park.